Tonya's story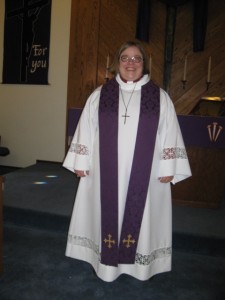 My name is Tonya Eza, and I am an ordained pastor in the ELCA.  I grew up in the Lutheran Church—Missouri Synod, and in order to understand my journey, I think you have to know a little bit about my family first.  My father grew up in the Lutheran Church of America (before the 1988 merger that produced the ELCA) and my mother is the daughter of a Missouri Synod pastor (now deceased).  When they were married, my grandfather made it clear that they would go to a Missouri Synod church, but because of my father's background, the churches that I grew up in (we moved quite frequently growing up because of my dad's job) were always on the moderate side.  In fact, there's a story that, before I was born and my parents were looking for a church home, they attended one church where the pastor preached on Ruth and said that "Ruth was a good woman because she knew her place."  My father's response was to say that they would not be attending that church, because "no daughter of mine is going to listen to this *insert expletive here*."
As I was growing up, I don't remember ever questioning why the pastors were always men.  It was simply a fact of life.  I always enjoyed going to worship on Sunday mornings, but I never thought that I would become a pastor.  I had several ideas of what I wanted to be when I grew up, but church work never really entered my thinking.  My interest in further study of Christianity was not sparked until I went to college and started taking religion classes as part of my minor.  As I delved more into study of scripture from a liberal scholarly point of view, I began to question why the LCMS did not ordain women.  At that time, some of my good friends saw something in me and encouraged me to become a pastor.  Perhaps it was the fact that I made the effort to go to the closest LCMS church, which was 30 miles away from the town my college was in, with friends who lived in town, on a regular basis.  But at that time I was simply not ready to embrace that call—I had other ambitions and goals in mind.
After I graduated from college in 1996, I returned to my hometown and got a job as a reservations agent for a tour operator.  While there were some definite perks to this job, after a while it got to be wearing on me.  About the time I was looking for a change, the president of my congregation came up to me one Sunday and said, "I got this list of mission opportunities from St. Louis and I thought you might be interested.  Here you go."  After some prayer, I filled out the application, flew to St. Louis, and interviewed with LCMS World Mission.  I was asked to go to Taiwan for 2 ½ years as a volunteer missionary teaching English as a Second Language, including Bible studies and participating in activities with a local church.  I accepted, and in 1998 I went.  This is truly what turned my life around—experiencing the generosity of the people of Taiwan, teaching the Bible and having to delve into questions about my faith that I had never thought of before, along with many other experiences—and I knew that I could never return to the business world for my career.  The Holy Spirit finally had me hooked on church work.
But what could I do in a church that did not ordain women?  My choice was pretty much limited to education, since I had very little musical talent.  God had not given me the gift of being an excellent youth director, and I really wasn't called to work with small children, either.  Here I must give credit to my mother, who went to talk to the pastor of her church who had been newly called there from the New York City area.  He put me in touch with the people who worked in the Atlantic District.  The mission director hired me (without ever having met me!) to work as a Mission Assistant for Chinese missions.  Here I was treated as an equal with the men who were also working in the area in various fields of mission work.
I spent two years in New York City working in Chinese missions.  During this time, the mission director of the Atlantic District put together a Mission Training Center to give his missionaries further education in Lutheran theology, as he had a habit of hiring them in unorthodox ways.  I was allowed to take part in those classes, some of which were taught by professors who came to New York from Concordia Seminary in St. Louis.  One of these classes was even a class on how to write sermons.  I remember double checking to make sure it was okay if I took that class, and the people in charge said yes.  I remember the pride I felt when, as the professor was reading off grades for the first sermon assignment, he looked at me and said, "That was a really good sermon.  Where are you going to preach it?"  I am thankful for his encouragement, even if we both knew there wasn't a hope of me being able to preach in the Missouri Synod.
One of the classes that I took with the Mission Training Center was a class in the history of early Christianity, and a professor had come up from St. Louis to teach that.  He and I were discussing a paper I had written, and he asked me what I was going to do with all of this education I was receiving.  I said that I didn't know.  I had been starting to feel restless with the work that I was doing, because the church where I was based was pushing me more and more towards being the youth director, where I felt called to be doing mission work.  I was being paid by the Atlantic District, but unfortunately when I discussed the issue I was having with the local church, my supervisor wasn't much help.  In any case, this professor said, "Well, we just started a new deaconess program at Concordia Seminary, and I think you'd be a really good fit."  I told him I would think about it.
Thus began a process of discernment.  I was dissatisfied with my position in New York.  However, I really enjoyed the city and had no desire to move to St. Louis.  But, the deaconess program did look very good.  So, one night as I was agonizing over this decision, I heard a voice in my mind say to me, "You've been praying to me for several months and asking me to get you out of the situation you're in.  Here I am opening a door.  Why aren't you jumping through it?"  At that point, I bowed to God's will, filled out the applications, and before I knew it, I was saying goodbye to New York and hello to the deaconess program at Concordia Seminary, St. Louis.
The program was very new when I went there; I was a member of the second class of deaconesses to go through it.  To say that they were still ironing out the kinks was an understatement.  But, for all of the problems, I got a great education, and found I had a gift for Biblical languages and Bible study.  The professors there were very good and not once did I feel like I was treated differently by them because I was a woman.  What disturbed me was seeing the attitudes of some of my fellow students.  It was like I had entered a time warp into the 1950s and feminism had never been heard of.  I mention this because it was part of my growing discomfort with how the Lutheran Church—Missouri Synod as a whole treats women.
I finished my studies at the seminary and then went on internship with Alaska Mission for Christ.  For one year I interned part of the time with a local congregation and part of the time doing mission development work in a nearby area without a Lutheran church.  This was, hands down, one of the best years of my life.  The pastor of the church did not restrict me in any way beyond not leading worship, and was open to different ideas that I had.  I enjoyed the congregation and the people that I worked with and got to know.  In fact, the church looked into keeping me on as a deaconess beyond my internship, but discovered that they just couldn't afford a salary and benefits for me.  So, at the end of my year there, I returned to the lower 48 and stayed with my parents while I waited for a full-time call as a deaconess.
This full-time call came from a small church in southeast Texas who wanted me to be their parish deaconess.  I accepted, and again I was blessed with a pastor who did not restrict me in any way except for that of leading worship.  With my pastor's support, I took an extended unit of Clinical Pastoral Education (CPE) at St. Luke's Episcopal Hospital in Houston.   CPE is required for most mainline denominations in their seminary training, but is not in the LCMS.  Again I enjoyed the congregation, and thought that I would remain there for a while.  I was determined that I would remain with the Lutheran Church—Missouri Synod and work for change from the inside.  But I began to realize that, before the LCMS could even come close to ordaining women, they needed to have a serious conversation about how women were treated.  From my seminary experience, and from other church experiences, I saw that women were treated as second-class citizens under the guise of 1950s-era chivalry.  I was upset that many of the theologians in the LCMS believed in the concept of "creation order" to justify male superiority, even if it was, in the best interpretive light, a benign and caring male overlord.  But, as I said, I thought in my position as parish deaconess, I could work for change from within the system.
However, only a year and a half into my call there, disaster struck.  In order to financially support a deaconess, the pastor had canvassed the congregation and had thought he had the pledges to cover my compensation.  Unfortunately, the people who had pledged did not follow through on those pledges.  The stewardship committee had failed to let anyone know what was going on until it was too late.  The congregation was in the red.  When they passed the new budget, they did so by letting me go.  There were many tears shed all around, but this also firmed up some things that I had begun to realize about myself.  I knew that my calling was not to be a youth director, but to work with adults.  And so, when I put my name on the call list, I was very honest about that:  I am not a youth director, I said.  And crickets chirped and I received no bites from any congregations.
I stayed in Texas for a few months after I was let go in order to finish up CPE.  As it became clear that no calls were forthcoming, my mother suggested that I come home and that I take another unit of CPE at the University of Virginia Medical Center in Charlottesville, VA.  So I applied to the program and was accepted for the summer unit there.  One of the requirements of CPE is to make goals, both personal and professional, and to work on those during the time spent there.  One of my personal goals was to reflect on my relationship with the LCMS and to determine whether God was calling me to stay with them or to go elsewhere.  That unit of CPE was life-changing for me.  I spoke with several people over the summer and had some key visits with both patients, resident, and staff chaplains.  Towards the end of my time there, I would characterize myself as being "in the borderlands".  I wasn't quite ready to jump ship yet, but I was looking over the edge and starting to like what I saw.
One day, I was discussing my dilemma with one of the staff chaplains who just happened to be a member of the ELCA church in Waynesboro, Virginia, Grace Evangelical Lutheran.  He invited me to worship with his congregation, and also offered to put me in touch with another ELCA pastor who had been a deaconess in the LCMS for 20 years or so before going to the ELCA.  I accepted both of these offers.  When I visited with the deaconess turned pastor and I heard her story, I felt like, for the first time, someone understood exactly what I was going through.  I am so thankful for this wonderful woman.  And when I decided to visit Grace Lutheran in Waynesboro, I remember tentatively walking in and sitting in a back corner, very tense to see what would happen.  When you grow up in the LCMS, you unfortunately hear many awful things about the ELCA.  But as the service went on, I began to relax—because there was nothing taught there that ran contrary to what I had been brought up to believe.  And as time went on, I returned because of the welcome I received from the congregation.  I discovered that I was the third woman that Grace had received from the LCMS who came because she was discerning a call into ordained ministry.  The congregation loved me and knew how to get me involved.  I think I was loved into the ELCA—welcomed for who I was and the potential I had, and never mind about my gender.  For the first time in a long time, I felt like I was home.  And so, in December of 2008, I left the LCMS, gave up my title as a rostered deaconess, and became a member of the ELCA.
During this time also I was speaking with the candidacy committee of the Virginia Synod.  The Virginia Synod candidacy committee was, like the congregation at Grace, a warm and welcoming group of people.  I was told that all eight seminaries in the ELCA were good schools, but that some would be more flexible in accepting the work I had already done at Concordia Seminary than others.  I was entranced into candidacy in January 2009 and accepted as a student at the Lutheran Theological Seminary at Gettysburg around the same time, beginning my studies there in September 2009.  They gave me one year's worth of credit for the work that I had already done, and so I studied for one year, did internship for one year, and studied for a final year.  I was assigned to the Montana Synod in the spring of 2012, and graduated from the seminary in May.  In September of 2012 I received the call to be pastor of Hope Lutheran Church in Powell, Wyoming (which, yes, is part of the Montana Synod), and I was ordained on October 13, 2012.  I am convinced that this is absolutely what God has had in mind for me all along, even though I went through many twists and turns to get here.  I am so thankful for all who helped me along the way, and I hope that my story can be encouraging to those who may read it.